We have ServiceControl running on a virtual machine and Service Pulse installed in IIS. ServicePulse reaches ServiceControl through a redirect in IIS. Also, we have a valid certificate set up in the IIS site.
This configuration works fine for ServicePulse. The problem is that when I try to access ServiceControl from ServiceInsight in url https://sp.mydomain.com/api, I get the error in the screenshot: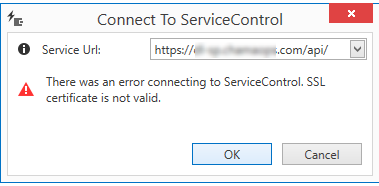 Any idea on how to resolve it? Note that the SSL certificate is valid.