NSB 7.1, RabbitMQ, Self-hosted windows services, Autofac DI
The diagram below is a map of this system. There are N number of initiating apps (left side), which process data, and then they all have a surrogate processing service that handles uploading the data somewhere (file shipper). In addition, each initiating app submits an analysis result set to a common, shared data warehouse endpoint, which then uses configuration stored in a database to determine where that analysis data should go. In most cases, the analysis data is "teed" to multiple destination queues, which each handle importing to their own isolated DBs.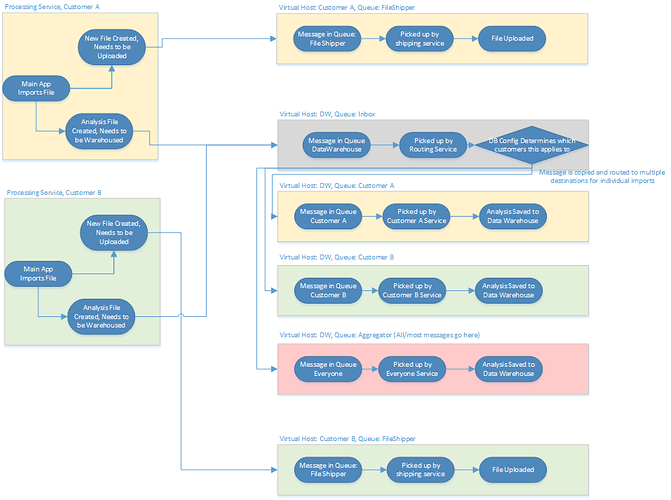 As I have it set up, the initiator service can successfully communicate to the associated uploading service queue, but when ever it tries to send a datawarehouse message, I'm getting errors in the log that state there is no route or the exchange does not exist in the 'Customer' vhost. The queues and exchanges exist and were all created correctly where they belong, it just seems that NServiceBus is not using the vhost of the endpoint I'm doing the send from, and is instead choosing the other vhost to send to?
Essentially, every message winds up on the endpoint used to create the fileshipper integration (which also happens to be the first one configured during service start-up). I need to have these DW messages go to the DW endpoint, but I can't get it to work, and I feel like I'm missing something.
I have this implemented and working in a VS solution I used as a proof of concept. But, as I'm trying to retrofit the existing service that already does work using a different connection, I'm having issues. I can't upload the zip of that solution for being a new user, otherwise I'd share it.