More specifically, this sample: https://docs.particular.net/samples/azure-service-bus-netstandard/send-reply/
Endpoint1 and Endpoint2 are doing request/response, what I see in the Azure portal after starting the solution and running it is what I would expect to see. Two queues created, one for ep1 and one for ep2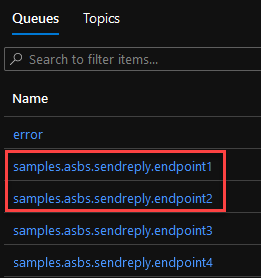 After reading through these three blog posts by @danielmarbach:
I understand the reason for using message forwarding for the subscriptions for Endpoint 3 and Endpoint 4 (both these ep's handle the same published event, Event1)



What I'm confused about is why did NSB create a subscription for ep1 and ep2? Neither of those ep's are handling or publishing an event.
Ep1 is sending the Message1 command, Ep2 is handling Message1 and then sending Message2 back to ep1 using .Reply. Message2 is an IMessage. Ep1 is handling Message2.
Are those subscriptions actually being used by ASB to handle the routing of Message1 and Message2 between ep1 and ep2?
The reason I'm asking, is I'm currently working on a project where I'm using ASB directly, and I'm trying to wrap my head around not only the AMQP protocol, but also the concept of Topics, Subscriptions and Rules.
Never having worked directly against an AMQP-style broker before, I'm realizing how spoiled I've been using NSB, as working with commands, events and handlers is such a nicer, higher-level abstraction than having to get down into the weeds of ASB's topology and API.
Thanks!