Hello,
We just started exploring the options of NServiceBus and are very positive about the product.
The test-setup we are currently using (1x publish endpoint, 1x consuming endpoint and RabbitMq as transport) is working, and we configured the publish endpoint with EnableCallbacks(). This is all working fine! Message are send and received correctly.
So the next step for us was exploring the features of ServiceControl, so we have configured our consuming endpoint to enable heartbeats and metrics (which requires to enable Auditing). And when looking at the metrics via ServicePulse, everything looks good and seems to be working.
But when I look in RabbitMq, the queue "xxx.Servicecontrol.Audit.Errors" (default name when installing it via ServiceControl) receives messages. And I have been looking/searching around, but couldn't figure out why this is happening!
Attached the message which got in the Audit.Errors queue: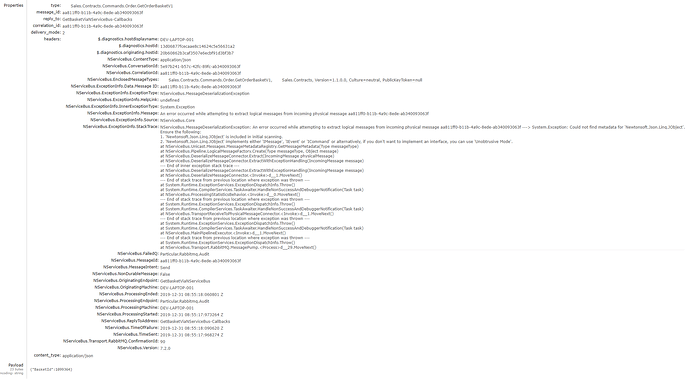 I have an feeling it has something to with the consumer of the "Particular.Rabbitmq.Audit" queue, which I believe is the audit instance running in ServiceControl. This instance doesn't have any knowlegde of the messages which get on this audit queue, but how can I configure this instance in doing so (or isn't this required?!).
Please support me with this issue.