Hi
The Monitoring in Service Pulse can't consequently connect to the endpoint queues.
I'm getting the following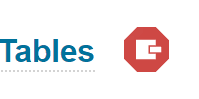 with the message Unable to connect to instance when hovering the error icon.
For some of the endpoints this warning is permanent, for a few it goes away for a second every once in a while. So basically we only get ? most of the time on the monitoring overview.
We're using SQL Server Transport for all of our endpoints. The rest of ServicePulse appears to work fine (failed messages showing up, retries, heartbeats etc).
Do you have any suggestions on how I could investigate and solve this issue? Any additional information that you require?
Thanks,
Philipp